HOME

About Us

Business introduction
Business introduction
Plastic film business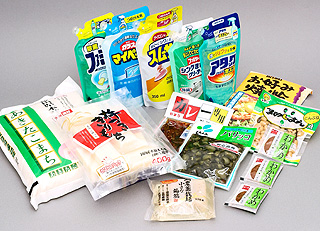 Films refer to thin polymer membranes. They are produced from a wide variety of materials. Our plastic film products are discussed here.
Countless film-based items used in our daily lives, such as snack bags, packages of cup ramen, aluminum bags for tea, wrapping films for household use, and plastic shopping bags. Especially in food-related applications, films boost convenience and enrich our food consumption as their performance improvement leads to enhanced food preservation and enables retort food that can be eaten right after heating.
Aside from film thickness, all types of films appear identical, but they have different functionality depending on the purpose. Take for example disposable hand-warmers, which give off heat triggered by oxygen in the air. They are covered with moisture-permeable waterproof film with fine holes that allow oxygen to pass through. Their outer bags, which are not opened until usage, are made of oxygen barrier film, which is widely used for food packaging as it prevents food deterioration due to oxidization. Our array of products includes both moisture-permeable waterproof films and high performance oxygen-barrier hybrid coating films. Polyolefine heat-shrinkable films, which shrink when heated, are used in packaging applications for cup ramen and other goods. We offer a wide variety of shrinkable films in accordance with the customer's request. Especially KOHJIN-KORAP™(PP Shrinkable films) is for high-speed packaging use, and is a high-quality films suitable for full-color gravure printing and hold the largest share in this market in Japan.
In 1964, we established a unique manufacturing technology called the tubular simultaneous biaxially oriented film production method. Positioning it as a core technology, we develop and manufacture films with varying functions. We will continue our research and development on films that enhance your lifestyle.
1960
Water-cooling non-stretching PP tube film (Transparent IPP) is developed.
1962
CELLOACE cellophane is released.
1963
POLYACE IPP film is released.
1964
POLYLUMY Tubular biaxially oriented OPP film and KOHJIN KORAP™ PP shrink film are released.
1970
BONYL™ Tubular biaxially oriented single-layer nylon film is released.
1972
POLYACE T-die non-stretched single-layer PP film CPP is released.
1975
BONYL™-K K coat is released.
1980
KOHJIN KORAP™-U Tubular single layer L-L shrink film, currently marketed as KOHJIN KORAP-UM, is released.
1984
HI-SHIELD T clear antistatic (conductive) film PE is released.
High-speed large-width K coater starts operation and HS-KOP is released.
1990
KOHJIN TSF moisture-permeable waterproof film and LVS PP-PET-L-L vertical uniaxial shrink film are released.
KOHJIN KORAP™ Tubular multilayer L-L stretch shrink film is released.
1997
KORAP™-SW Tubular biaxially oriented multilayer polyolefin film, currently marketed as KORAP™-SW101, is released.
1999
SPY Tubular biaxially oriented multilayer gas-barrier nylon film is released.
2001
KORAP™ SG21 Tubular multilayer cross-linking L-L stretch shrink film, currently marketed as KORAP™-CS, is released.
2003
KOHJIN KOHBARRIER™ non-chlorinated high gas-barrier coated film is released.
2012
The Plastic Film Division and the Finechemicals Division are spun off by a company split and reorganized into KOHJIN Film & Chemicals Co., Ltd.